Equipment ≡ Skis
Rossignol 9X WC Oversize (08/09)
This year also, we got a chance to test one of Rossignol's toughest race models - Radical 9X World Cup Oversize.
Tested model: 170 cm, r = 17m
Sidecut: 124-80-112
Sizes: 160, 170, 180 cm

For the fifth year in a row, Rossignol is promoting their Oversize series; this time, with some novelties worth mention. Some technologies encountered with the previous models remain, but some new ones are also present; VAS system for reducing on-snow vibrations and Dualtec system for better contact of the ski with the slope. All already implemented technologies were of course enhanced and improved. Some of the novelties include Rectangular Sandwich Construction and vertical sidewall, which is to ensure better performance. For even better performance, there is Oversize, ensuring the ideal sidecut regarding the ski's radius and length. This season, Oversize comes in rather recognizable and somewhat unusual sizes: 124-80-112. These numbers are enough to demonstrate that this is the widest giant slalom ski on the market (!). The interesting fact is that tip and the tail on both slalom and giant slalom models are of the same width. The only important difference, that changes the radius, is the width of the waist. Speaking of bindings, this model is equipped with Axial TPI2, their DIN scale ranging from 5 to 14. In comparison to race models of other producers, 9X is still somewhat lighter in weight.
What is the main difference compared to the previous models? The greatest difference can be felt regarding the ski's rigidity. It seems that Rossignol has made some construction changes to this model because the ski's is extremely stiff despite its very wide waist. Its mass being lessened, the ski is extremely adaptable on all kinds of slopes. With the previous models, although they too were stiff, somewhat more aggressive skiers of greater weight tended to have problems on harder packed slopes because greater pressure on the ski would cause it to turn and slide under them. However, it is no longer the case. Whatever surface you find yourself on, this ski will ensure you keep your direction. If you are of a lighter weight, you'll profit on somewhat softer slopes, where your ski won't bump into snow but will glide easily instead. However, it could prove to be more of a liability than an asset - uneven and bumpy surfaces could put you off-balance with this ski.
We have already mentioned that the greatest changes have been made concerning the Oversize technology, that is, the ski's geometry. 80 mm waist, which has so far been unseen regarding giant slalom models, combined with 17 m radius, will ensure you unbelievable stability and precision (the data from the catalogue, on 15 m radius of 170 cm sized ski, is in discrepancy with the actual facts on the ski, author's remark). The feeling of control during executing dynamic, that is, giant slalom turns, which has already been great, is now even greater. Shifting the ski from edge to edge is surprisingly easy, as well as changing the radius of the turn, all with a minimal waste of power and energy. The absence of greater vibrations at greater speeds and no sliding on icy slopes will make you feel extra safe, which may result in your losing the feeling for speed and lessening control over the ski.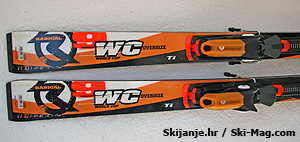 17 m radius will allow you to make short turns, but it'll cost you a lot of energy. If you find yourself in deep snow, the ski's weight and width will make it easier for you than some other giant slalom model would. However, bear in mind that this ski is not intended for such endeavors.
Enhanced torsion rigidity and modified geometry make Radical 9X Oversize WC a ski that will satisfy all race skiing devotees; those who are becoming ones, as well as the experienced racers.
June 22, 2008 23:26h

Author: Tomislav Matošin

Provided by: SVS Sport Trzin I.O.C.
Blatnica 14 1236 Trzin
tel. +386 1 560 50 56
The latest on Ski-mag.com

©
Ski-Mag.com
2003-2014.
ISSN 1845-5891
e-mail:
info@ski-mag.com
Publisher: Ski Club
Hupser
Site by:
Info izlog Ltd.
Number of visits:
57766245
All Rights Reserved. The data is obtained from sources believed to be reliable, but the editors do not guarantee its accuracy, nor they consider themselves responsible for any damages caused by the content on this site.
More...